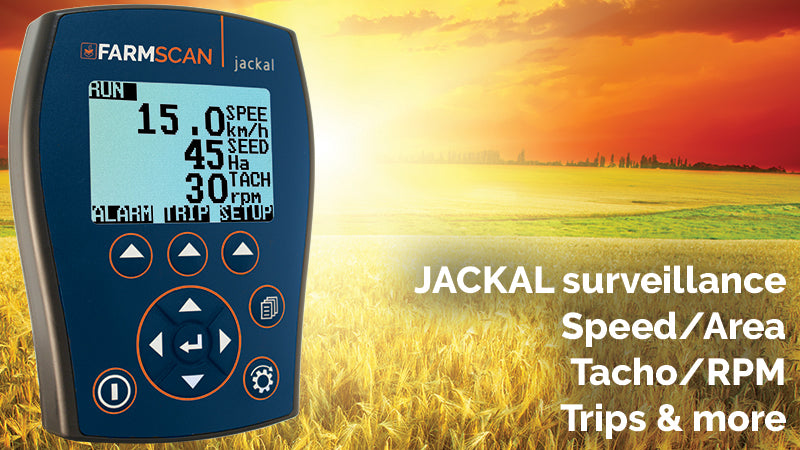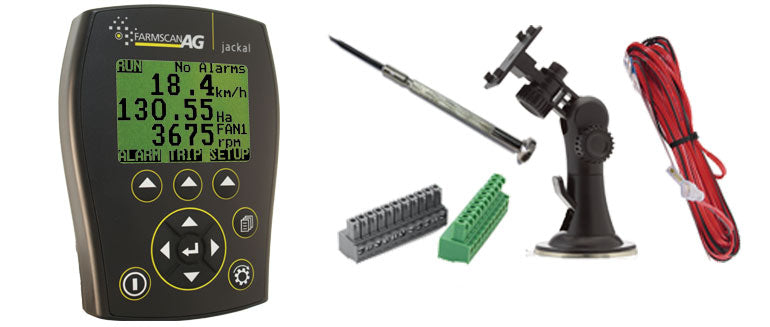 Jackal Multi-function Monitor
$845.00
Price excludes GST

Quantity:
Kit Options:
Monitor Only Kit:  This is what you need if you're replacing an older 1100 areameter, and your speed sensor and cable are still ok. This kit includes Jackal monitor, suction mounting bracket, 5m power cable, 2x 11-way connectors, screwdriver, and a comprehensive full-colour installation and operation manual.
Tacho/RPM Kit and Speed/Area Meter Kit:  Includes everything in the monitor only kit, plus a proximity sensor kit and a 5m sensor cable.
Speed/Area Meter Kit (GPS):  Includes everything in the monitor only kit, plus a GPS speed sensor as shown in third photo, which eliminates the need for proximity or magnetic type speed sensors and cables, and makes installation much easier and quicker.
The Jackal is a compact multi-function monitor for use on almost any machine, and capable of multiple functions simultaneously – e.g. In a 4-bin/tank Airseeder application a single Jackal can monitor and display several shafts, bin levels, air pressure and tine/plow depth.
The monitor has a large sunlight-readable and illuminated LCD for easy operation day or night.
There are a total of 13 inputs available which are combined with a single output for emergency shutdown, batching functions and speed proportional pulse outputs.
The inputs can all have both high and low alarm thresholds set which can trigger the output for emergency shutdown systems, etc. 
It has multiple trip counters as well as an overall total allowing the operator to track numerous jobs in a period of work. The Jackal can be put 'on hold' by the operator or automatically by a suitable signal from the machinery, so that periods of machine operation that should not accumulate as a work total can be excluded from the trip totals.
The onboard calibration wizard makes setup a breeze! It's simplified with the ability to enter either a factor (pulses per unit) or simply drive/run a set amount whilst the unit is counting the pulses and let the system calculate its own factor.
Some of the many functions possible:
Area Meter
Tacho Meter
Flow Meter
Batch Meter
Batch controller
Rate monitor
Level monitor
Counter
Pressure monitor
Temperature monitor
Depth meter
Wheel slippage monitor
Great features include:
Easy wizards for fast setup of Area & Speed Meter using either a standard wheel speed sensor, or a GPS speed sensor, Tacho Meter, Flowmeter, Slippage Meter & Generic Wizard
1, 2, or 3 line display – Your choice of up to 3 lines per screen (page)
LIVE data as you scroll through each page
Ability to short name each port. i.e. label Shaft 1 as SF1
Set high & low alarm points for EACH input
Enhanced Trip function for single & cumulative
The ability for each input used to display information using imperial and metric units.
Your choice of number of decimal places
Arrange front page to your liking…. You select what you want to show on each line
Auto calculate or manually set calibration factors
External run/hold or alarm function (to external buzzer or visual alarm)
Quickly enable/disable ports without losing settings for next time usage