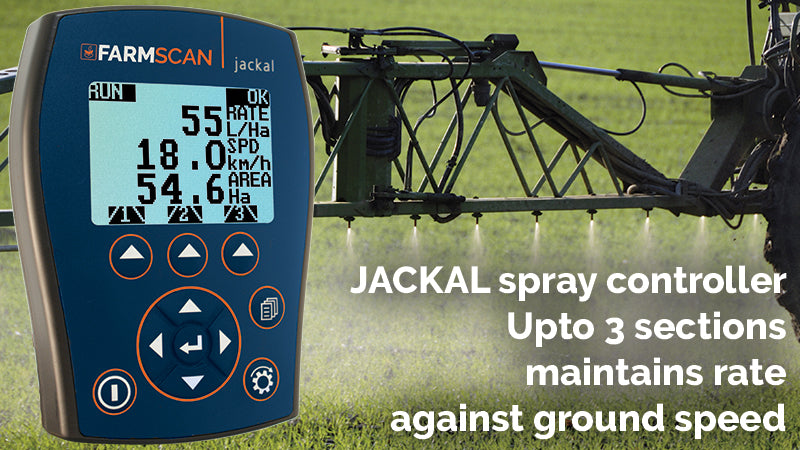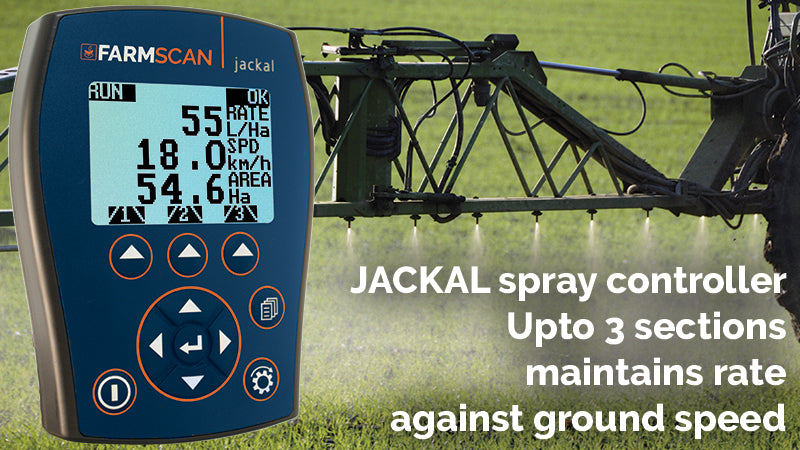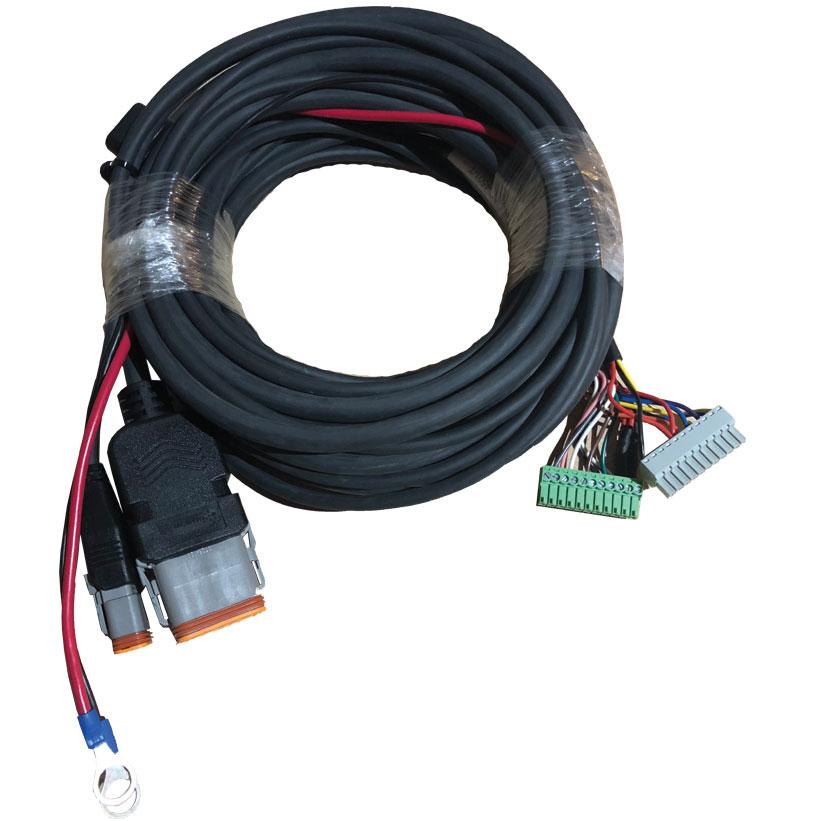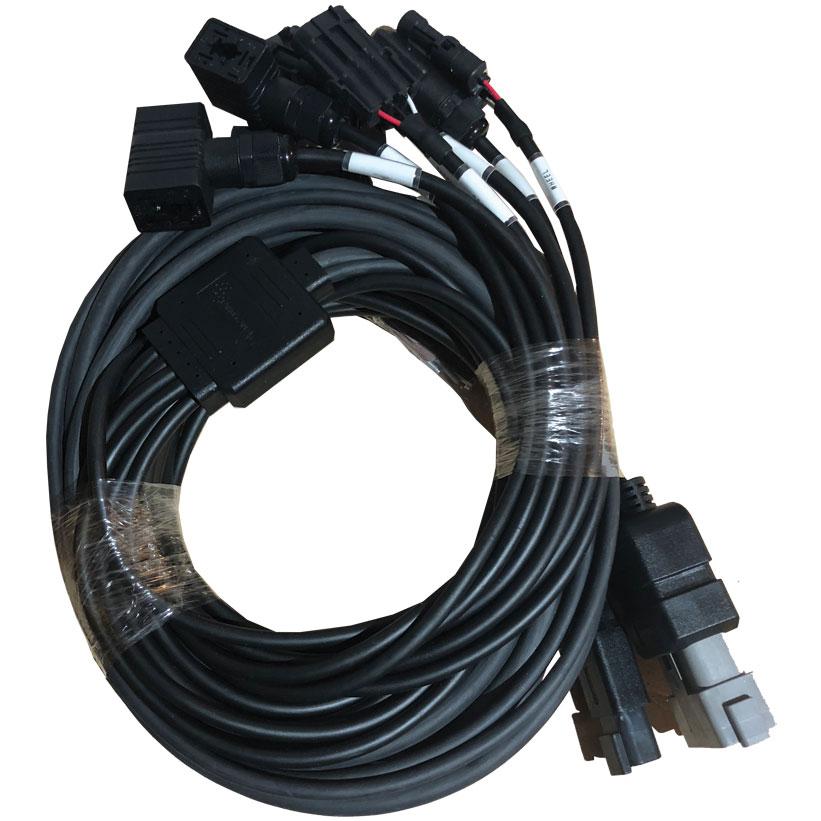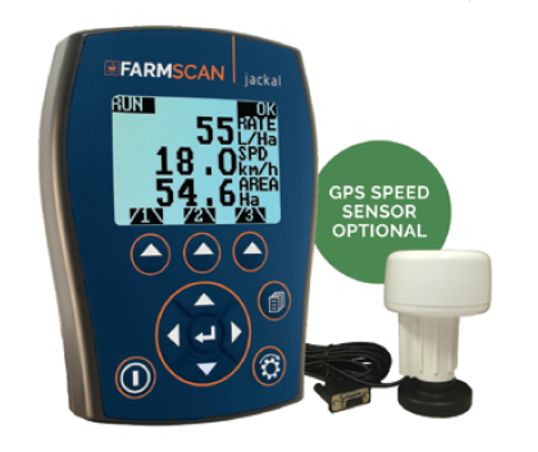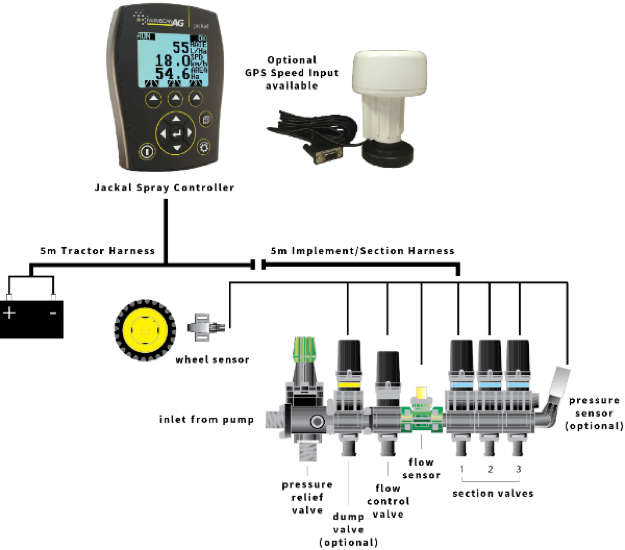 Jackal 3-Section Spray Controller
$970.00
Price excludes GST

Quantity:
The Jackal 3 section spray controller offers great flexibility and simple operation.
Suitable for most sprayers, the Jackal Spray Controller integrates with your existing motorised or solenoid valves (additional hardware required) to provide fully automatic spray control.
Choose either:
Controller-Only Kit:  Includes Jackal Controller, suction mounting bracket, power cable, and a comprehensive full-colour installation and operation manual.
Or:
Spray Controller Kit:  Includes all items in the Controller-Only Kit, plus 5m Tractor and Sprayer looms as shown in photos.
Note: does not include sensors or valves
Other Features:
Automatically maintains the target spray rate you select regardless of section shutdown, speed or pressure variations (within the limits of the sprayer pump capacity and nozzle size) to virtually eliminate over/under application.
Displays application rate, speed, area, tank level, and more
Operator can increase or decrease rates on-the-go through preset steps for heavy or light weed patches
Manual rate control is also available when flow or speed signals are not present. –  Simply refer to your pressure gauge – manually adjust the flow control valve with the buttons on the Jackal and get spraying!
When slowing at headlands or around obstacles, the slow hold function avoids pressure drop and loss of spray pattern by automatically holding the control valve at a minimum operating pressure.
Run/Hold button on the the front panel allows instant stop/start control at headlands or when refilling.
An optional dump valve connection is available on the harness to divert pump delivery back to the tank whenever the master switch or section valves are switched off. (This is highly recommended if using a diaphragm pump)
A pressure sensor can be added to provide a pressure display on the front screen.
Traditional wheel speed sensor or optional GPS can be purchased for ground speed input.
Compatible products:
Valve banks (choose 1, 2, or 3 sections, plus optional dump valve)
Additional Notes:
• The Jackal sprayer harness is wired to suit our Geoline valve banks with 3-wire motorised section and dump valves, and 2-wire motorised proportional control valve.
• We can modify the harness to suit 2-wire solenoid section and dump valves if required (additional costs apply). Please refer to your implement supplier or auto electrician to determine the current requirements and wiring of your existing valve bank.
• If you are connecting to 2-wire motorised section or dump valves (e.g., Arag or Hardi) you will need 3-2 wire converters.