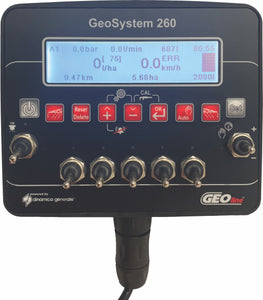 Specifications:
Can control up to 5 sections
Automatic and manual operation
Large, rear lit LCD graphic display
Visual and audible alarms
Includes standard speed sensor and T-136 GPS speed sensor
Includes 5m wiring looms for connection to our standard Geoline valve banks
Extension wiring looms also available
Parameters managed: pressure, speed, flow rate, area treated, quantity distributed, duration of treatment, distance travelled, tank level
Pressure sensor not included. If you require digital pressure indication, use AA-115 pressure sensor.
An economical option to upgrade your old Hardi spray controllers
Note: This controller can only operate single line functionality.