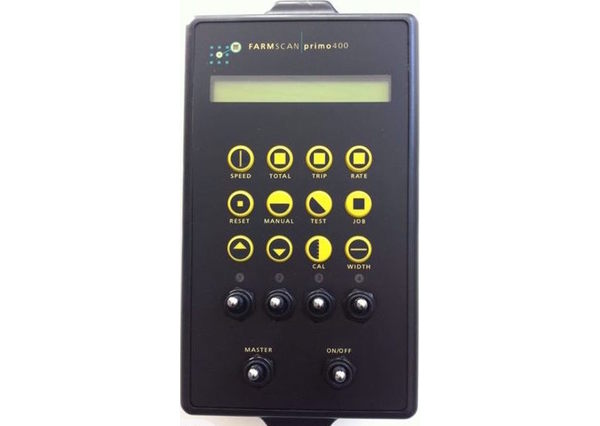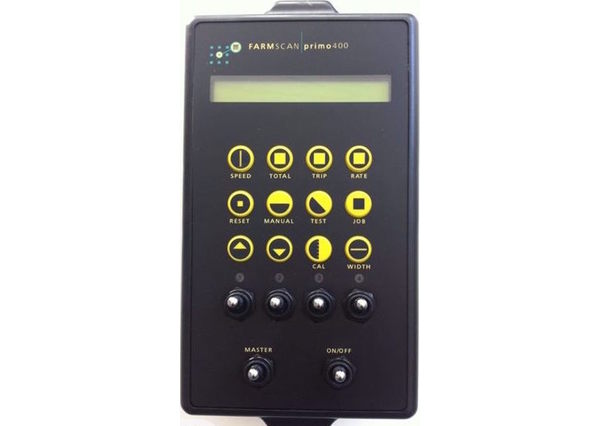 Primo 400 Spray Controller (refurbished)
$1,000.00
Price excludes GST

Quantity:
The Farmscan Primo 400 automatically maintains the target spray rate you select regardless of section shutdown, speed or pressure variations (within the limits of the sprayer pump capacity and nozzle size).
Note: This is a refurbished unit in good condition, fully tested with 3-month warranty.
Sorry, wiring looms not available.
FEATURES:

Simple to operate
Complete installation and operation manual included
Displays application rate, speed area, and tank level
Rate can be changed on the go
Illuminated for night work
Built-in control switches for 4 sections, plus "Master" switch
Audible alarm on low tank level and rate error
"MANUAL" function for manual rate control, or for flushing the tank
Can automatically divert liquid back to the tank whenever the sprayer is stationary or the unit is put on hold
Built in trip meter records area covered and amount of product sprayed for up to 10 trips
Total memory records overall area and distance covered as well as the total amount of product sprayed
Programmable Slow Hold function maintains spray pressure when speed goes below the set speed
Programmable Auto Shut-Off function shuts down sections when speed goes below the set speed, then switches them on again when the speed goes above the set speed