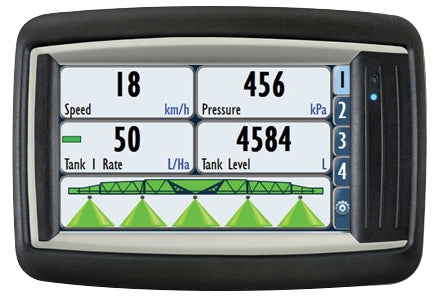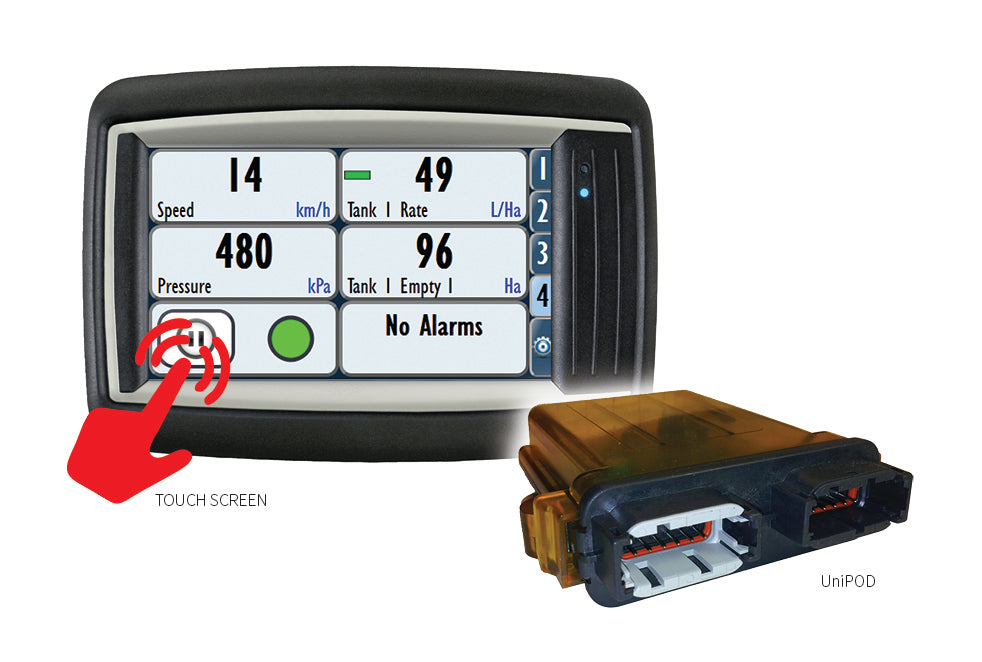 74V1 Spray Controller Kit
$4,495.00
Price excludes GST

Quantity:
Total Spray Rate Control
Up and down hills or through boggy conditions, the 74V1 spray controller compensates for changes in speed, pump pressure or section shutdown to maintain the target rate you select. The 74V1 can also simultaneously manage multiple tanks with individual rates. Perfect for those dual rate systems. Couple this with the inbuilt Jobs setup and easy to use "Tile" & "Tab" system, the 74V1 is the perfect spray rate controller for any farming operation.

Flexibility in the field

For heavy and light weed patches, you can increase or decrease rates on-the-go and the Smart master switch box gives instant stop/start control at headlands or when refilling. With the ability to handle multiple tanks and multiple rates at the same time the 74V1 is a truly flexible unit that can stand up to any challenge in the field.
The 74V1 is up to the challenge...

*  Control from 1-5 sections (or up to 10 sections with the 74V1/10 kit).
*  Multiple languages options
*  Touch screen
*  Easy to set up customisable tab and tile display
*  Clever status indicators tell the operator at a glance when the sprayer is operating 100% on target. In the event of any change, a red visual and audible alarm is activated.
*  Alarm high & low points can be setup and displayed on any tile or tab. In the event of any change, a red visual & audible alarm is activated. (Example alarms : rate, tank level, speed etc)
*  For quality assurance and proof of placement requirements, spray records for virtually unlimited trips are maintained with time/date stamping. An export function is also available.
*  On-screen prompts assist the operator with simple instructions when calibrating, displays warning messages, and provides advice on corrective action.
*  Set-up and calibration options can be locked out to avoid unauthorised tampering.
*  The 74V1 will accept radar, magnetic wheel sensor or GPS NMEA strings.
Alternative control valves and sensors are available for high volume airblast and ultra low volume applications. If you would like to integrate our solution to your application – we can help.
*  The 74V1 will also have the ability to load application shape files for Variable Rate Control (VRC) spraying. 

Advanced Control Features:

*  Slow Hold function avoids pressure drop and loss of spray coverage when slowing at headlands or around obstacles, by automatically holding the control valve at a minimum operating pressure.
*  Multi-Step Control system can work with different size nozzles in each spray line. The controller automatically selects first, second or both spraylines to maintain the best working pressure. This results in smoother transition from one line to the other and even greater flexibility in rates and working speeds.
*  Optional dump valve function diverts pump delivery back to the tank whenever the master switch or section valves are switched off. (This is highly recommended if using a diaphragm pump)
*  Optional second sprayline can activate automatically when the first spray line reaches maximum pressure. The benefits of second sprayline have been proven for over 15 years.
*  A pressure sensor can be added to provide a pressure read-out and pressure-based control of the slow hold and second sprayline functions.

Kit includes:

*  7000 Touch-screen Terminal & Cab harness
*  Spray UniPOD
*  10m CanBus cable
*  5 or 10-Section Sprayer Harness
*  5 or 10x valve adapters (valve bank is not included)
*  Smart Switch
*  Wheel sensor, magnet, and 5m extension cable
*  Installation and Operation manual

Example Setup